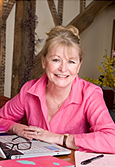 Sue Cook will be sharing tips and information for aspiring writers at the Verulam Writers' Circle annual Get Writing conference at the University of Hertfordshire on the 19th February.
"I love writing. For me, the writing process is like a muscle you have to exercise. I used to set myself a target of 5,000 words a week."
Sue's first novel, On Dangerous Ground, was published in 2006. She is currently working on her third novel and adapting On Dangerous Ground for a film of the title.
Visit Verulam Writers' Circle website for more information about Get Writing 2011.
St. Albans Review: Broadcaster Sue Cook shares writing tips with Verulam Writers' Circle