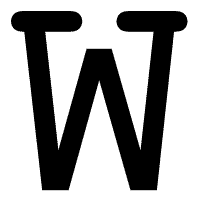 by Scott Pack
I am sometimes asked to give talks about writing and publishing and more than once I have run workshops on the subject of self-editing. I thought it might be useful to share some of my notes from these workshops. Do with them what you will.
We are all familiar with writing prompts – images, ideas or sentences intended to inspire creative writing – but at my editing workshops I distribute editing prompts. The theory is that these short, and sometimes silly, suggestions can get you to view the process of editing from a different angle.
Personally, I don't think there is any substitute for a professional copy editor and strongly recommend that self-published authors invest in such a service. If you are one of the select few to be snapped up by a publisher then they'll look after that for you – you lucky bugger – but whatever your position, at some point you will want to take big red felt tip to your manuscript. Here are some prompts that may help.
1. WORD CLOUD
Use an online word cloud generator to spot the words you use most often. You'll be surprised by what you find and it will prompt a useful editing session. You might want a thesaurus handy!
2. SDRAWKCAB GNIDAER
When proofreading your work try reading backwards, starting at the last word on the page. This will ensure you are approaching the text from a new angle, will stop you 'reading' it and keep you on your toes.
3. WALK AWAY
There's a lot to be said for the desk drawer. Leave a finished work for a day or more – a week would be ideal – so that you can come at it fresh with you editing hat on (you don't actually need a special hat).
4. WE ALL GET BETTER WITH AGE
You are almost certainly a better writer now than you were when you started your book. So why not revisit the parts you wrote first and ask yourself if you would write them the same way today?
5. SHHH, LISTEN
Reading your work aloud is a great way to spot issues and problems. Better still, record yourself (or someone else) reading it and play it back later so that you can take notes.
6. YOU ALREADY KNOW ALL THIS
Chances are you already know what the problems are with your work. It might just take a bit of distance, or someone else telling you, to reinforce that.
7. SHOW, DON'T TELL
Your readers are intelligent people. They read books. They can fill in the gaps. You really don't have to tell them everything. They'll work it out.
8. ADVERB SIT UPS
While editing, make yourself do 10 sit ups every time you come across an adverb. You'll soon start taking them out, or you will end up with awesome abs. Pretty much a win-win situation.
9. YOU'RE FIRED
Look out for redundancies. If you've said it once you don't need to say it again.
10. FEELING TENSE?
It is not unusual for tenses to change as you write. Easy to fix.
11. GET YOUR RULER OUT
Do you really need those long sentences? And while you're at it you can get rid of some of those long words too.
12. IT'S THE SIMPLE STUFF, STUPID
Check the basics. You have spell check, use it. Watch out for homonyms (spell check won't find them). Make sure your formatting is consistent. All the obvious stuff, basically.
13. WAIT TILL YOU'RE FINISHED
Don't try to edit as you go along. That way madness lies. Wait till you have written the whole thing and then you can get stuck in.
14. EDUCATE YOURSELF
You can't drive a car, speak French or rewire your house without lessons, so why should you be able to edit? Invest in a good guide or handbook to help you on your way.
15. – NOT +
You should be taking words away, not adding them.
16. TYPING WITH THE STARS
Take some of your favourite books and type out a few pages. You will learn so much about pace, punctuation, economy of language and how to write. For some of us this is the closest we will ever come to greatness.
17. THERE'S NO ROOM FOR LOVE
If someone loves you, don't ask them to offer feedback on your work. Find someone whose opinion you value but who won't mind offending you with some frank and honest views.
Scott Pack – former supremo at Waterstones, now publisher and editor